Tummy time is an important activity for you and your baby and can lead to many health benefits like developing early motor skills, muscle strength and endurance, and so much more. It is a great time to both bond with your little one and to help them experience something slightly different albeit challenging in their first few months. Knowing all that, let's dive into when is the best age to start tummy time and some best practices for getting the most out of your child's tummy time sessions. 
When To Start Tummy Time With Your Newborn 
You may be exhausted and a bit overwhelmed at this time, but you can start tummy time pretty early. We recommend waiting to start tummy time two weeks after the baby's umbilical cord has fallen off to ensure proper comfort and healing for the little one, unless it is being done on top of mom or dad and very carefully. Sometimes the contact with a hard surface can aggravate the cord and cause it to bleed. It can be done on mom or dad for more interactive/bonding time, but should be done on a firmer surface consistently too.
The most important thing is that you start tummy time activities when you and baby are both ready, awake, and alert. Go at your own pace and listen to and observe your baby so that you both are doing things at a pace that feels right.
Getting Started With Tummy Time: The First Few Weeks
Those first few sessions will be the trickiest as baby will most likely be cranky or upset at the new activity, especially since it is pretty physically challenging. Have patience and keep your first sessions short, about 3 to 5 minutes until both you and your child are used to it. We usually recommend that TT be done with each wake period anywhere from 2-10 minutes. Initially babies only have 1 or 2 wake periods throughout the day. This changes as they get older.
The first few sessions should be all about getting you and your baby used to the tummy time activity. Your baby should be practicing or attempting to lift their head during these sessions and by the end of the first month should be able to turn their head from side to side during a session. Progress will be slow at first but if you stick with it, it will happen. Go at your own pace since every child is different. 
Tummy Time Set Up
Creating a safe and fun space for your baby during tummy time is important in order to have a successful session. Start on the floor of a quiet room and make sure that the area is clean, dry, and free of any small objects, or dirt. If you can, it is a good idea to excuse pets from the room, especially larger dogs that may be disruptive at first. Next, set down a clean soft blanket or towel over the carpet to give the baby a nice working area to lay down in. Make sure that the blanket isn't too thick as that may make it difficult for the baby to breathe and maneuver. This is also a great time to put out some toys and other entertaining objects for the baby to play with during tummy time. Mix it up! After a few sessions, you can even put on some soft and pleasing music like classical orchestral music or your favorite soothing tunes. 
However you decide to do tummy time, make it a fun and unique experience for you and your little one. Want to learn more about how to get the most out of tummy time or have any questions about your child during these precious first few months? Contact The Early Weeks today to book your free 15 minute consultation on newborn care.
Have questions about your baby or parenting journey? Please reach out. We are here to help!
www.TheEarlyWeeks.com or contact us HERE.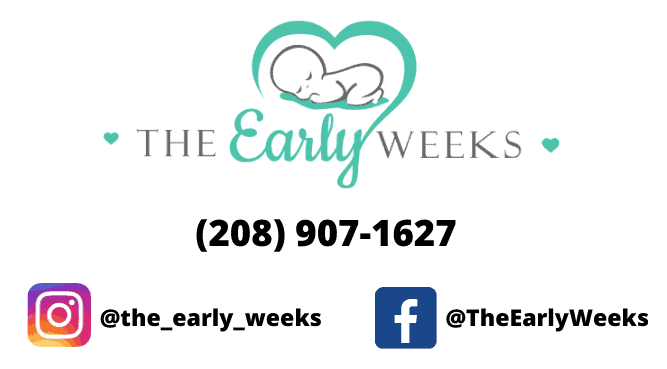 The content contained in this blog is for informational and educational purposes only. It is not intended as medical advice or to replace the advice of any medical professional. It is based on our opinions and experience working with newborns and their families. Other's opinions may vary. It does not represent the views of any affiliated organizations. The reader understands that the term "Babynurse" is often a word used to describe a newborn caregiver. However, unless otherwise disclosed, we are not licensed nurses in any state. By reading and/or utilizing any information or suggestions contained in this blog, the reader acknowledges that we are not medical professionals and agrees to and waives any claim, known or unknown, past, present or future. This blog may contain affiliate links.
© 2021 Bishop Enterprises, LLC All Rights Reserved