Even at the best of times, Thanksgiving is an overwhelming and stressful time. These days, it can be even more so, especially with a newborn infant in tow. Luckily, we have come up with a few time honored expert tips and strategies that you can use to help you and your partner navigate this holiday with ease. So now, just sit back, relax, take a sip of your warm beverage of choice and dive into our helpful list of holiday surviving tips for parents of newborns. 
If You're Traveling, Make Sure To "Overpack"
Even if you're traveling across town instead of across the country, it helps to be prepared. Don't assume that everything your newborn will need will be there, even if your relative who's hosting says it will be. Don't leave anything up to chance. Make a list of all the care items that you use throughout a typical day and ensure that they are packed and ready to go. Don't be afraid to bring "extras" of certain things like bottles, formula, blankets, clothes, burp rags, etc. As the old saying goes, "two is one and one is none."
Set Boundaries Early And Often
Newborns are still very vulnerable to diseases, especially when they may be stressed already from traveling and being introduced to so many new people and routines around the holidays. Feel free to set limits on the exposure they get from each person. Everybody may want to hold and play with the new baby, but that might not be possible this year because even a common cold can have huge ramifications. Your best bet is to limit exposure as much as possible and to not be afraid to be firm about it. 
If you are like most of us and want to avoid hurt feelings as much as possible, offer consolation to those who want more time with the baby than you are comfortable with: baby selfies! Have them hold the baby and offer to take a few pictures of them with the infant (remember to turn off the flash though!) and that will help them make the most of their special baby time. 
Logistics Tip: Secure A Nap And Feeding Room
If you're traveling this year, make sure that you speak to the home owner and see if they can set aside a room in the house that will be quiet and out of the way of the general festivities so that you can take the child to feed, nap, or just calm them down if they are getting too cranky or overwhelmed. Let everyone know that this room is "off limits" while the baby is in there. It can be the baby command center that will house all of your baby items and accessories and will serve as a napping area as well. And don't forget to try to keep your baby on a consistent nap schedule! 
To help make your nap and feeding room even better you can use these excellent accessories to get the most out of your home away from home. First we recommend a soothing portable white noise sound machine. It also has bluetooth connectivity so you can use it for everything from a white noise machine to party speaker. Travels very well too! 
It is also handy to have some removable blackout film window covering on hand to help keep harsh light from outside from distracting your baby when it's time to sleep. Don't leave home without it!
Don't Forget The Medical Supplies.
Nothing is worse than thinking your baby may be sick and being without proper medical supplies to help you know exactly what is going on. Don't forget to pack all of your baby's medical supplies this year! Think about things that would be nice to have in a pinch like a thermometer, gripe water (or similar soothing medicine), diaper rash cream, baby probiotics, etc. Don't forget to pack extra hand sanitizer as well for you and others. 
For all these reasons and so much more, it is a great idea to always be prepared when traveling with your little one this year. For any questions or help with establishing healthy sleep habits or sleep training, please contact us today to set up a free 15 minute phone consultation. 
Have questions about your baby or parenting journey? Please reach out. We are here to help!
www.TheEarlyWeeks.com or contact us HERE.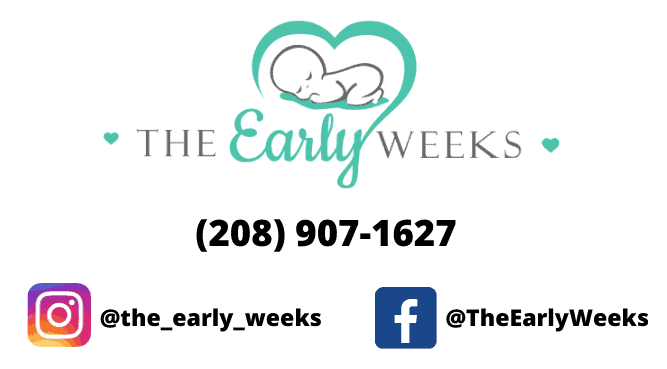 The content contained in this blog is for informational and educational purposes only. It is not intended as medical advice or to replace the advice of any medical professional. It is based on our opinions and experience working with newborns and their families. Other's opinions may vary. It does not represent the views of any affiliated organizations. The reader understands that the term "Babynurse" is often a word used to describe a newborn caregiver. However, unless otherwise disclosed, we are not licensed nurses in any state. By reading and/or utilizing any information or suggestions contained in this blog, the reader acknowledges that we are not medical professionals and agrees to and waives any claim, known or unknown, past, present or future. This blog may contain affiliate links.
© 2021 Bishop Enterprises, LLC All Rights Reserved