The following is an e-mail I received at 2 am a few weeks ago:
"In need of Sleep"
"We have a beautiful, baby girl that just turned 5 months old. She is not sleeping much at all, whether it be at night or during the day. We have kept her schedule pretty consistent and it doesn't seem to help. We are desperate for help to get her sleeping for regular naps and through the night. Thank you!"
The struggles
Beautiful baby girl Taylor is healthy, happy and loves her mom and dad. Unfortunately, there have been some real struggles in the sleep department for her whole family. The main problems being:
cat napping around the clock, some nights mom was only getting 45 minutes of sleep.
naps were everywhere they shouldn't be (swing, car seat, holding, bouncing).
little lady wanted to party from 1-3 am EVERY NIGHT.
Is it appropriate to sleep train?
It's important to keep in mind that not all babies are ready to sleep train. After some initial information gathering, it was mutually determined that mom, dad and baby were all ready to begin the process.
Day 1
I arrived at 7:15 am and spent a good portion of the day with Taylor and her mom. These home visits are really important. They allow me to teach and model to the parents as well as observe the baby and environment. It's a busy day with a lot of information and change.
Fortunately, baby and mom took beautifully to everything suggested. Taylor's first nap in her crib was 1 hour 50 minutes and the second 1 hour and 30 minutes. We actually had to wake her for both of them. It took her 5-7 minutes to fall asleep each time. For  baby that has only taken 2 naps in her crib and having been already asleep when she was put into the crib, this is massive success.
Bed time went very smoothly. In her crib when it was time and fell right to sleep. 2-3 minutes of settling and a few fussies, but that was all.
Night time was much better. She still woke, but only 1 time. She fussed on and off and went in and out of sleep for over an hour, but mom did a great job and stuck to the plan. Taylor ended up sleeping a solid 7 hour stretch! She had never done that. Her mom was thrilled. Not only because her baby slept so well, but she herself was able to get a good stretch of sleep.
Day 2
Mom actually had to wake Taylor. "I'm so excited to wake her" she told me. The first nap was a bit of a struggle, but Taylor still did great, sleeping a full hour. Nap two was amazing. Just over two hours, all on her own, in her big girl crib.
Mom enjoyed some really good quality awake time with her after that nap and sent me this sweet picture~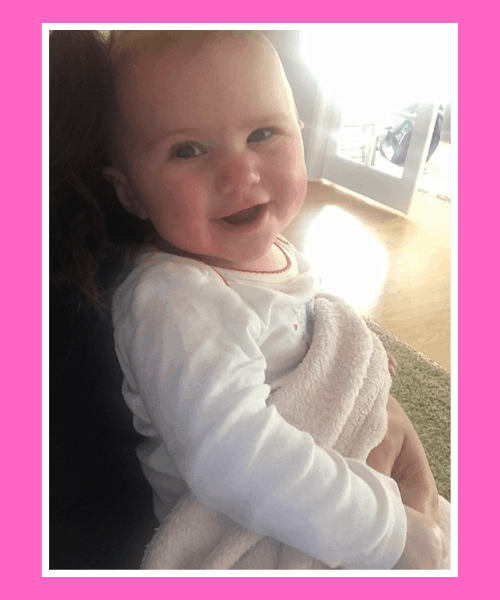 Night time was better. She still woke at 4:20 am, but went back to sleep quicker than night one.
Days 3 & 4
Naps for these days were both great overall. There was one that was a little short, but great in the grand scheme of things. Night 3 Taylor still woke about 4:30 am, but after a quick diaper change she was back to sleep. This was her first night making it thought the night with no food.
I woke up to this text Friday morning after night 4.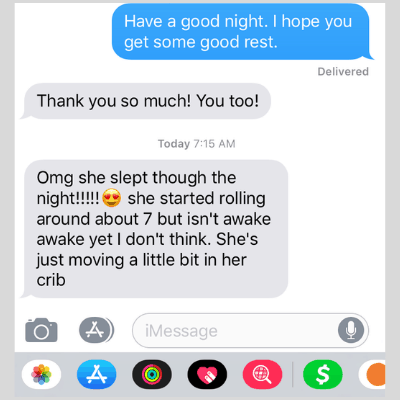 Truly one of the best ways to wake up and start my day. It never gets old!
How are you sleeping?
If your family is struggling to sleep, please let us help you get back on track. We know what prolonged sleep deprivation feels like and are passionate about helping resolve these issues.

The content contained in this blog is for informational and educational purposes only. It is not intended as medical advice or to replace the advice of any medical professional. It is based on our opinions and experience working with newborns and their families. Other's opinions may vary. It does not represent the views of any affiliated organizations. The reader understands that term "Babynurse" is often a word used to describe a newborn caregiver. However, unless otherwise disclosed, we are not licensed nurses in any state. By reading and/or utilizing any information or suggestions contained in this blog, the reader acknowledges that we are not medical professionals and agrees to and waives any claim, known or unknown, past, present or future.
© 2019 Bishop Enterprises, LLC All Rights Reserved