The holidays are such a fun time of year, especially if you have a toddler or two at home. In most homes, decorating the Christmas tree is a much looked forward to annual event and may involve multiple Christmas festivities including music, a big dinner, and lots of eggnog!   Although fun and family inclusive, deciding where all the ornaments and trinkets go can definitely be more difficult if you have a toddler or two around. In today's post we will go over some strategies you can use this year to help everyone in your family, including the toddlers, have an absolute blast decorating the Christmas tree. 
Start Small: Get The Tree Ready First
Have your little one "help" you with preparing the tree by giving them small tasks – helping open the decorations box and getting the strands of tree lights out of their containers are good examples. Once you start stringing lights, have them (under close watch) help by holding the end of the light string as you feed the rest of the string around the tree. That way they can feel like they are participating without getting too close to the tree.
Safely Decorating The Tree
Ornaments, by design, are delicate, fragile, and very alluring to little eyes. A perfect storm of disastrous proportions when it comes to having to decorate a tree with a toddler around! Traditional ornaments can be a choking hazard and are generally just not safe for a toddler or younger child to handle. When you are decorating a tree with the young ones this year, consider three strategies to help your decorating experience be safer, more merry, and bright. 
Decorate the top of the tree (out of reach of toddler arms) with the traditional or "dangerous" ornaments. That way you can still have some of them this year, but they are safely out of reach.

Have some "safer" ornaments set aside for your toddler to help you hang. You can buy

some here on Amazon

or you can even make your own in fun craft projects like this:

https://buggyandbuddy.com/handprint-reindeer-christmas-ornament-craft-for-kids/ 

Consider putting up a child barrier or fence around the tree once it has been decorated. This will help keep them from pulling at branches and cords and from possibly toppling the tree entirely. 
Have Them Help In Different Ways, AKA Distract Them
Decorating the tree looks so fun to a toddler and of course they just want to do whatever mommy and daddy are doing, but it may not be the safest for them. Why not have them do their own special project? There are these felt tree decorating kits that are just adorable and they can provide much needed cover while you finish up getting all of the decorations on and around the tree this year. With this project, your child can be decorating a tree just like you, but in a much safer and child friendly setting. If you don't want to buy one outright, then take a look at a few kits you like and you can make your own pretty quickly in a fun afternoon of crafting with family.
For any questions or help with your toddlers or sleep training infants and newborns, please contact us today to set up a free 15 minute phone consultation. 
Have questions about your baby or parenting journey? Please reach out. We are here to help!
www.TheEarlyWeeks.com or contact us HERE.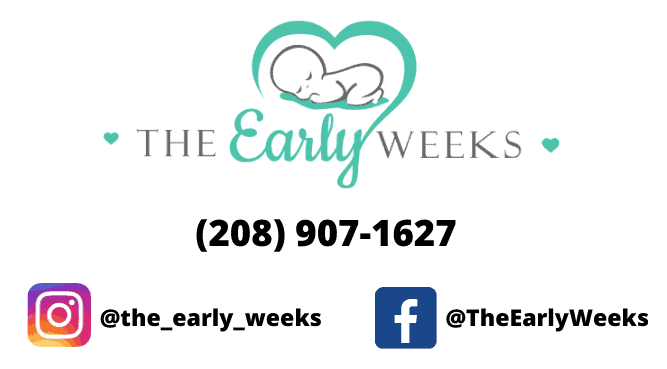 The content contained in this blog is for informational and educational purposes only. It is not intended as medical advice or to replace the advice of any medical professional. It is based on our opinions and experience working with newborns and their families. Other's opinions may vary. It does not represent the views of any affiliated organizations. The reader understands that the term "Babynurse" is often a word used to describe a newborn caregiver. However, unless otherwise disclosed, we are not licensed nurses in any state. By reading and/or utilizing any information or suggestions contained in this blog, the reader acknowledges that we are not medical professionals and agrees to and waives any claim, known or unknown, past, present or future. This blog may contain affiliate links.
© 2021 Bishop Enterprises, LLC All Rights Reserved