Arts and crafts. They are so much more than a way to entertain and have fun with your little ones. They help your child develop critical thinking and creative expression skills at a much faster rate and can even help them academically and intellectually. There really is only one downside to doing arts and crafts projects with your young children and that's cleanup (but even that doesn't have to be too bad!). We compiled some of our favorite creative and fun ways that you can enjoy arts and crafts projects with your children whether they are infants or toddlers or older!
Craft Project #1: Tummy Time Painting. Ages: 2 months +
Many parents may be surprised to learn that your child can start panting and crafting from a very young age. If they are old enough to do tummy time, then they are old enough to paint!  Here's how. The basic concept is that you will put paint splotches on a piece of blank white paper and carefully place that into a large plastic zip up bag. Then, once you've secured that bag to the floor you can have your little one do tummy time on top of it and smoosh the paints around with their hands (or body!) while doing tummy time. The result is an entertained baby and a lovely "modern art" style painting by your little one as they have fun exploring the gooey colorful paint within the bag. Here's what you'll need to get started.
1 large zip top bag, large enough to fit a good sized piece of paper in

1 blank piece of paper. Can be craft paper, or watercolor paper or just plain old printer paper

3 or more color tubes of child safe finger paints. They won't be touching the paint necessarily, but it doesn't hurt to have them use the non-toxic child-ready stuff just in case

1 roll of clear tape. Can be double sided, but not necessary.
Step 1: Spread three or four lines of colored finger paint on the piece of paper
Step 2: carefully slip the paper into the zip bag without smearing the paint
Step 3: Use a few srtips of tape to secure the bag to the floor where you will be doing tummy time
Step 4: Place your little one near the bottom or the side of the bag and show them how the paint smushes and spreads when you run your finger over it. 
Step 5: Enjoy! And don't forget to hang your new piece of art on the wall and share with your friends and family on social media. 
Project #2 Bathtub Paint Time. Ages: 8 months +
Is your baby sitting up pretty well on their own? Can they safely sit in the bathtub with a little bit of water while playing around? If you answered yes to those questions, then this craft project is for you! 
For this project, you will need just one thing, some baby safe "bathtub" paint or "soap paint." At your next bathtime, have your little one sit in the tub with about 1 inch of warm water. You can then squirt a line of paint in a few different colors on the wall of the tub next to them and show them that they can "paint" with the colors with their fingers. You don't have to necessarily use the "soap" kind of fingerpaint, any type of baby safe finger paint on hand will do. While you won't get a cute piece of art to hang on the wall afterwards, the cleanup is super easy as you're already in the bath!
Parting Thoughts
Here at The Early Weeks we know babies and young kiddos! Our specialties include infant and toddler sleep and routine, feeding, solid food introduction and generally most topics about early childhood development. We would love to answer any questions you have about your newborn, infant or toddler. We would love to help. Please reach out to us here!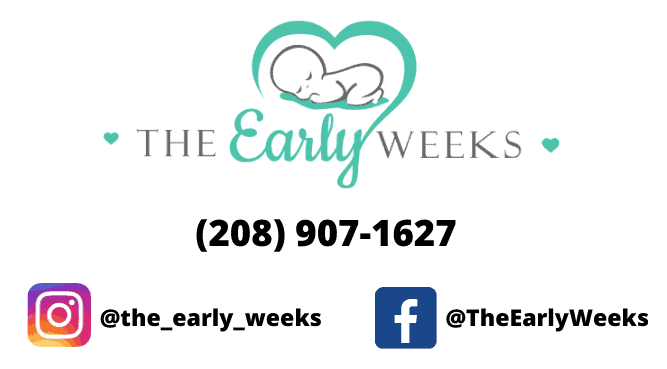 The content contained in this blog is for informational and educational purposes only. It is not intended as medical advice or to replace the advice of any medical professional. It is based on our opinions and experience working with newborns and their families. Other's opinions may vary. It does not represent the views of any affiliated organizations. The reader understands that the term "Babynurse" is often a word used to describe a newborn caregiver. However, unless otherwise disclosed, we are not licensed nurses in any state. By reading and/or utilizing any information or suggestions contained in this blog, the reader acknowledges that we are not medical professionals and agrees to and waives any claim, known or unknown, past, present or future. This blog may contain affiliate links.
© 2022 Bishop Enterprises, LLC All Rights Reserved