October in Boise is one of my favorite times of the year. Beautiful sunny days, crisp fall air, pumpkins, corn mazes, leaves turning and pumpkin flavored everything! In many areas of the United States, October is also when the temperatures start to drop. If you have and infant or are expecting a newborn this winter, now is the time to start thinking and preparing for how to navigate your winter outings with baby.
If you were dreading the cold months because you thought you'd be house bound from the cool temperatures, I have good news. You can still take baby out, even the brand new ones! With a few precautions of course.
Tips for successful winter outings with your newborn:
Keep baby warm. Infants, especially premature or brand new babies have a hard time regulating their body temperature. When taking baby out during the cold months, plan to layer, both yourself and your baby. Layering is helpful if you will be in and out of the car, in stores etc. making it easy to help adjust baby's temperature. There are essentially two ways you'll want or need to take baby out; in a carrier or in the car seat.
Carrier – For a brand new baby, plan to have a soft structure carrier like the K'Tan.  The Moby is another option, but is more fabric to deal with. Dress yourself in a form fitting short or long sleeve shirt and put the carrier on. Dress baby in clothing you feel is appropriate for the weather. I will typically choose a cotton footed sleep and play romper or long sleeve onesie, pants and socks. Don't forget baby's hat! Now place baby in the carrier. Layer  larger zip up sweatshirt or jacket over baby. you can additionally use a scarf or to help block wind etc. Use the layers of the carrier to cover baby's head and/or your jacket. Baby should be high enough on your chest so that you can kiss their head. Check for breathing and temperature often. If baby is a bit older, 3 + months, you can use the same technique with a more structured carrier like the Ergo. You may need a larger jacket if layering over baby.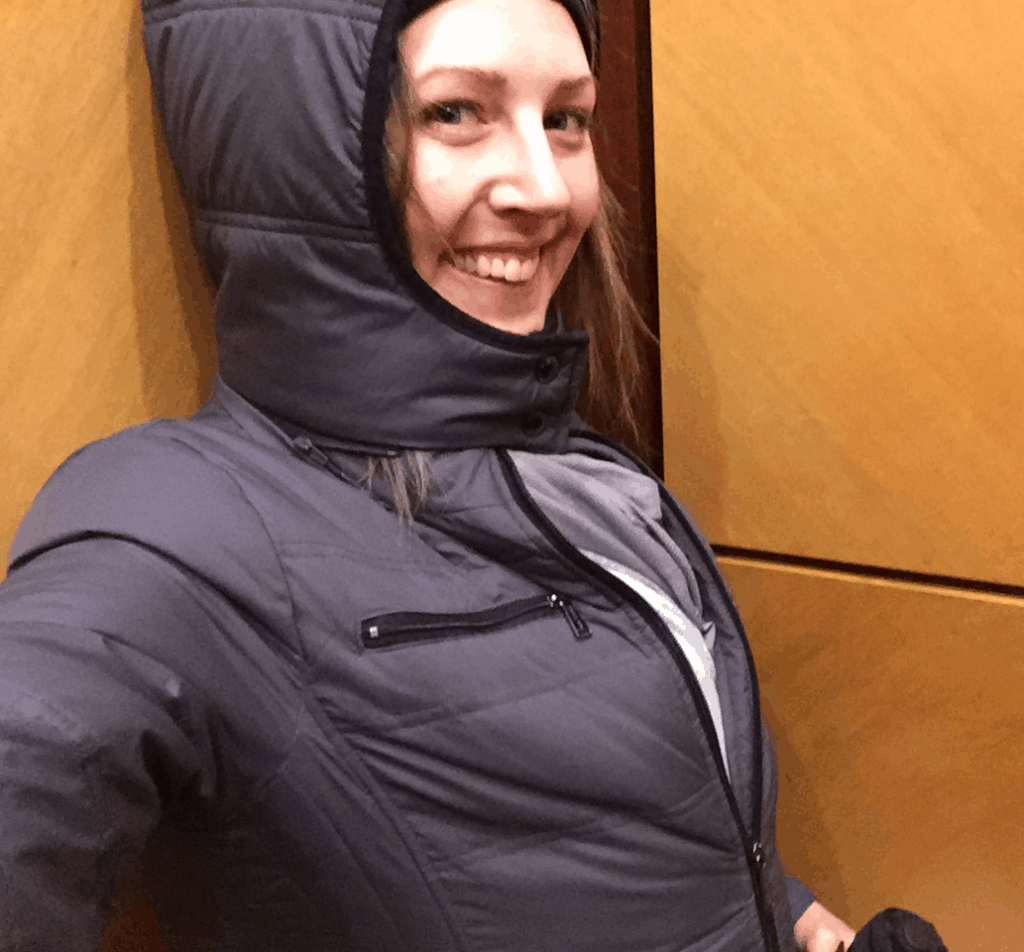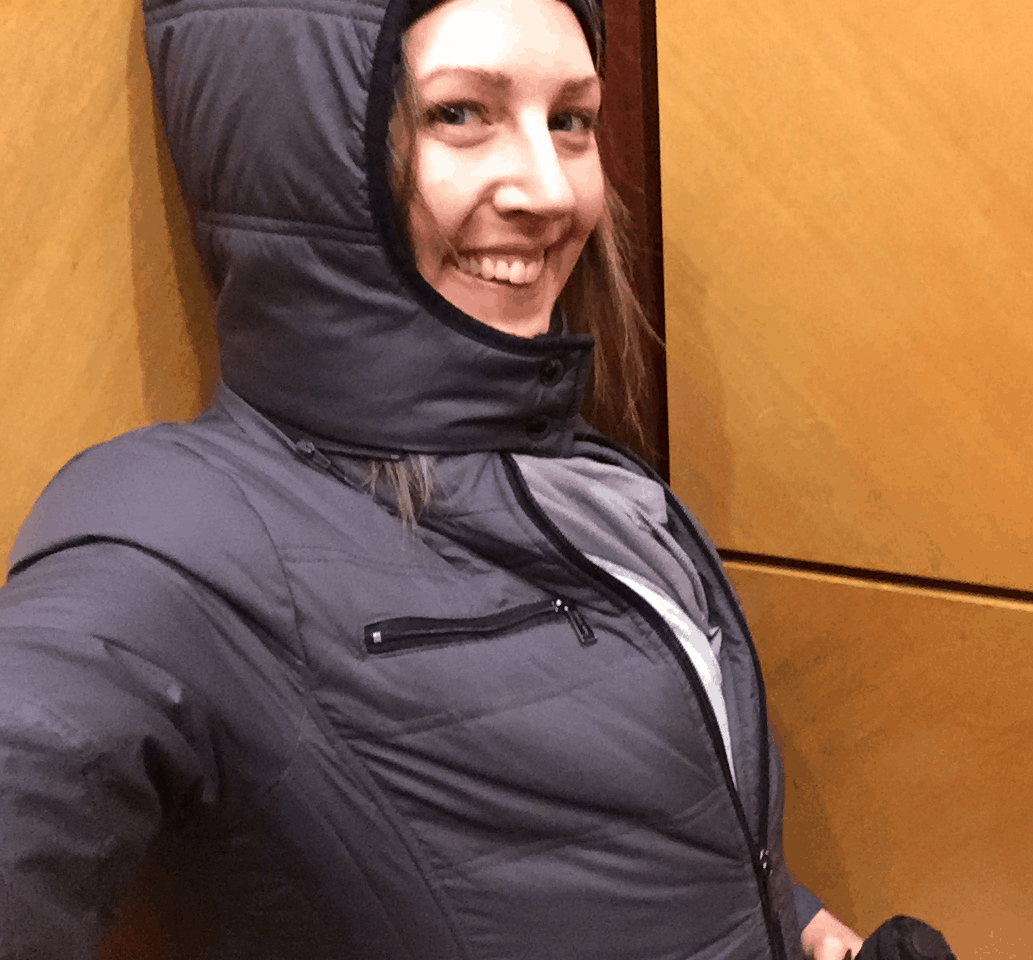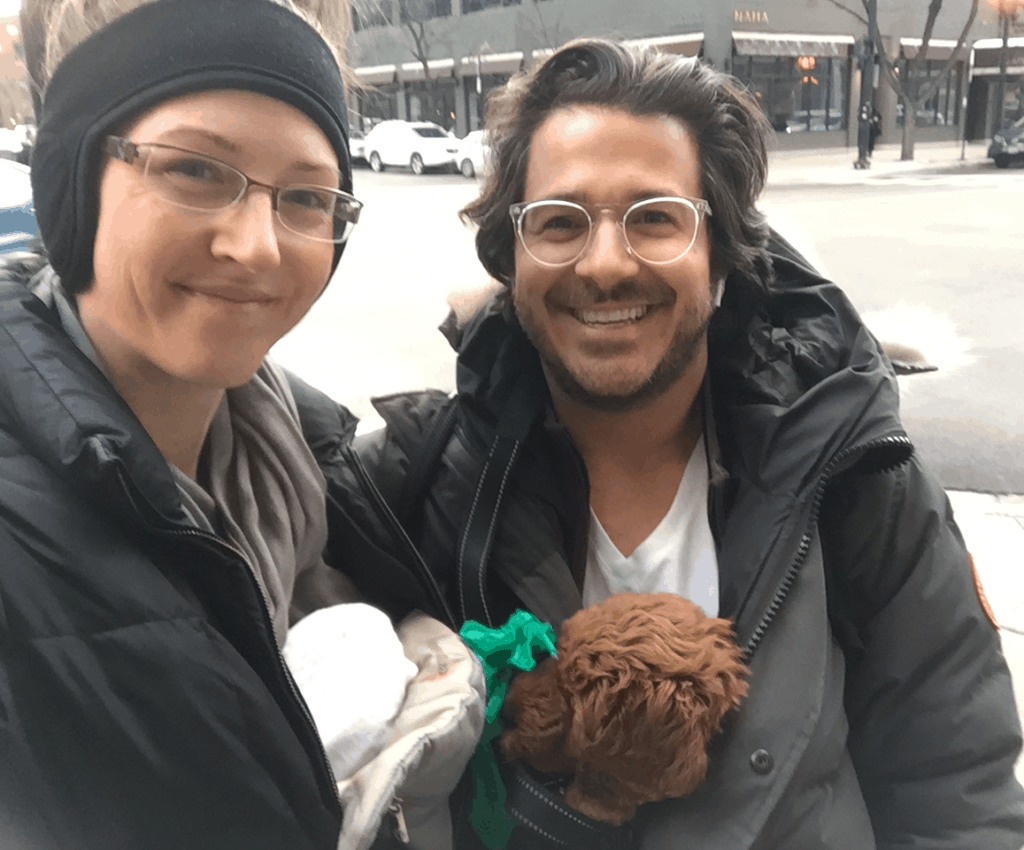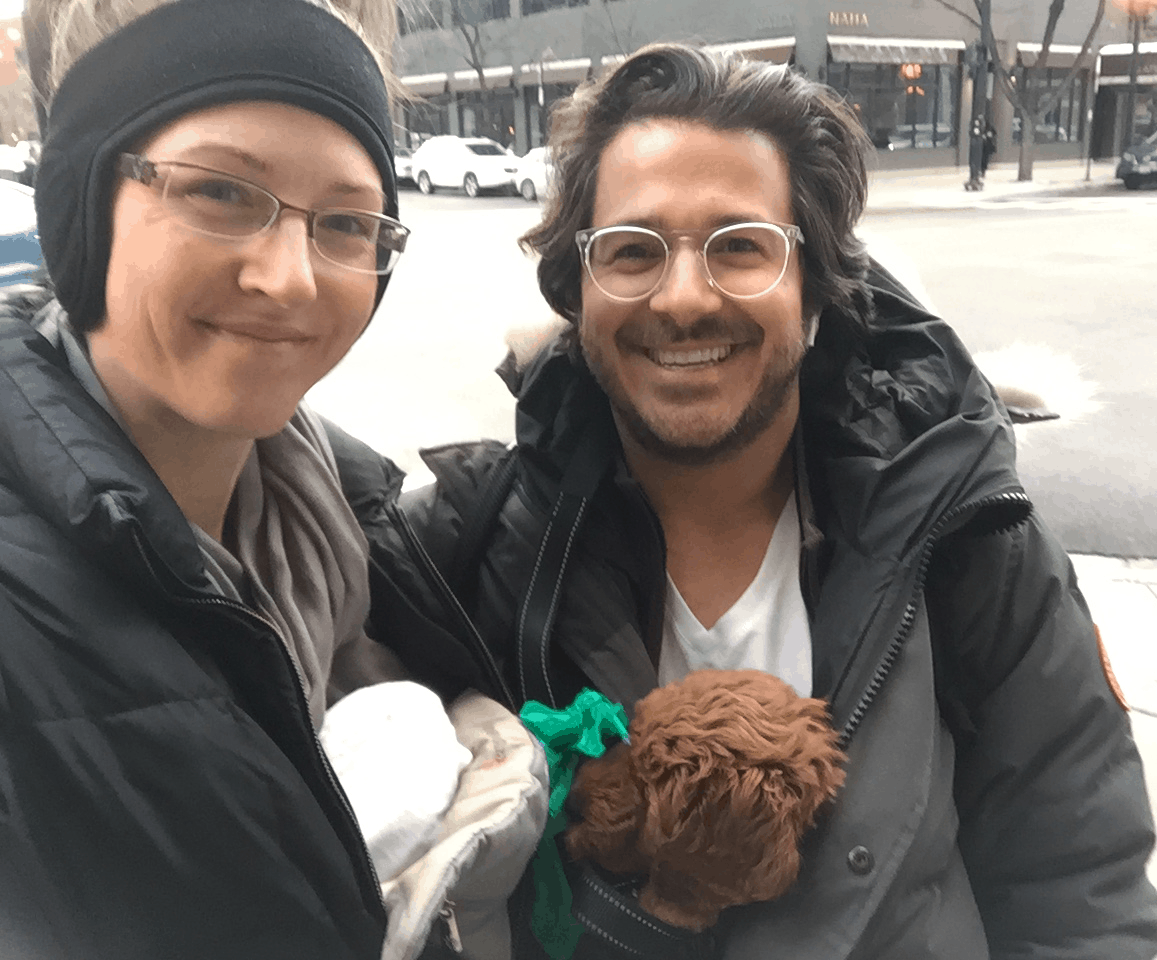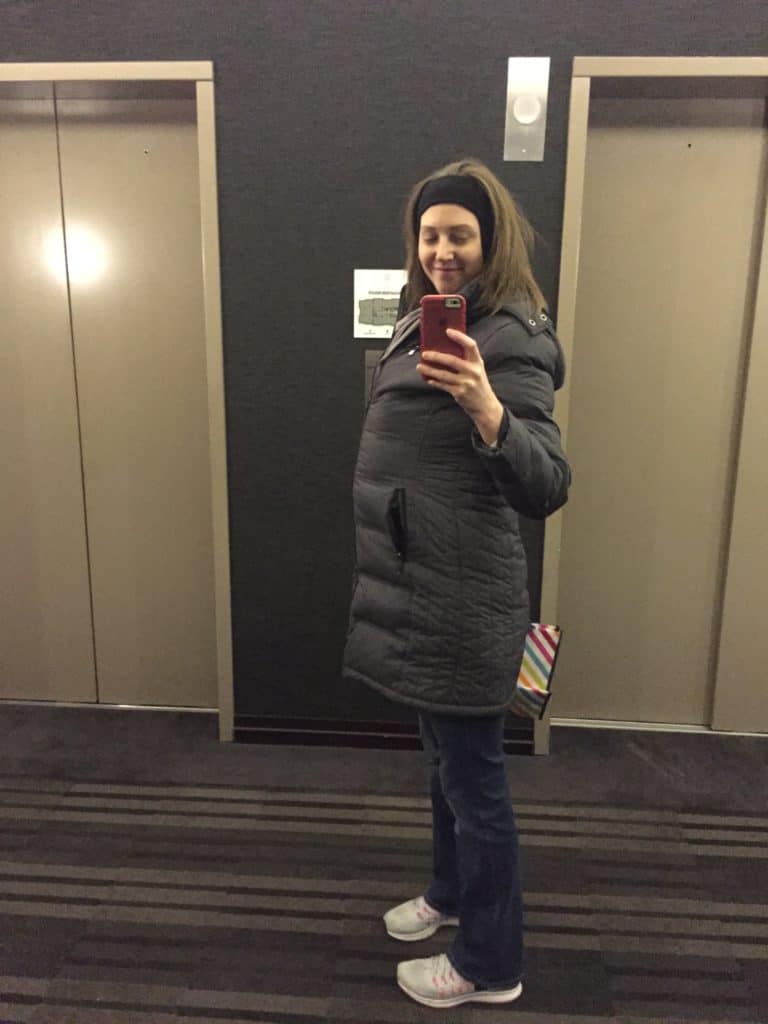 Car seat – When preparing baby for car seat outings, you will again need to layer. Dress baby in a cotton sleep n play romper or long sleeve onesie, pants and socks. You can add a zip up sweatshirt to baby, just make sure it's not too bulky. Extra bulk on baby while in a car seat causes improper fit of the straps. Make sure baby has a hat and have a few extra blankets on hand for layering. Tuck baby's hands under the blankets and/or use infant gloves. There are great car seat covers that will help block wind and cold temperatures. Again, check baby often for temperature and breathing.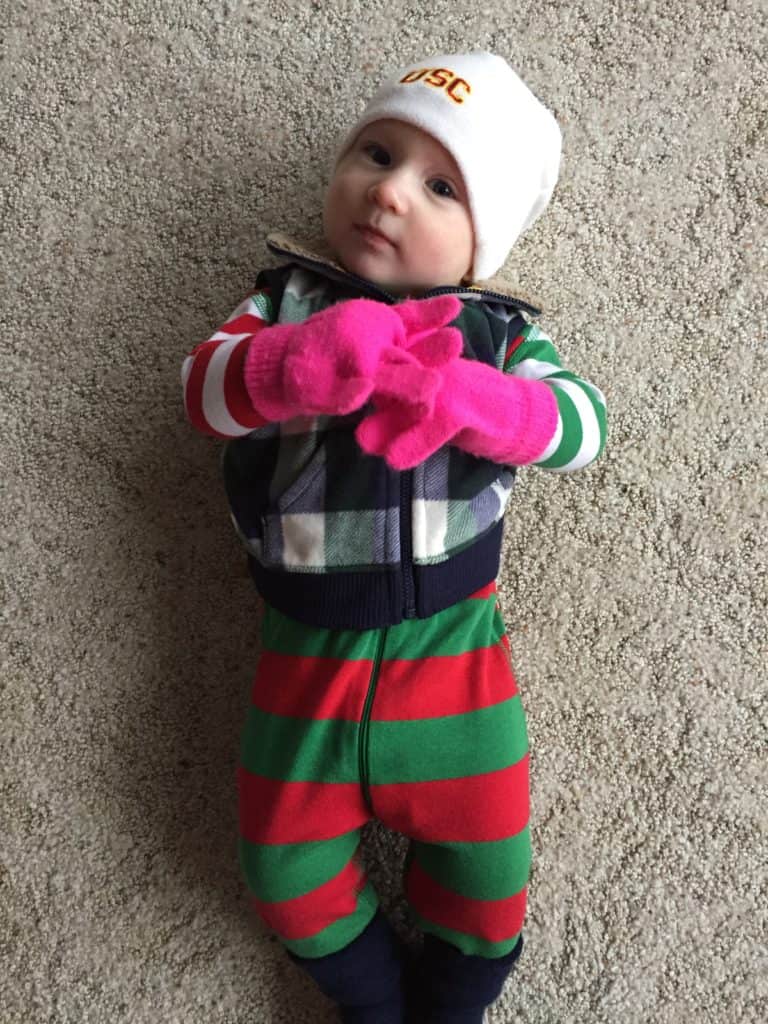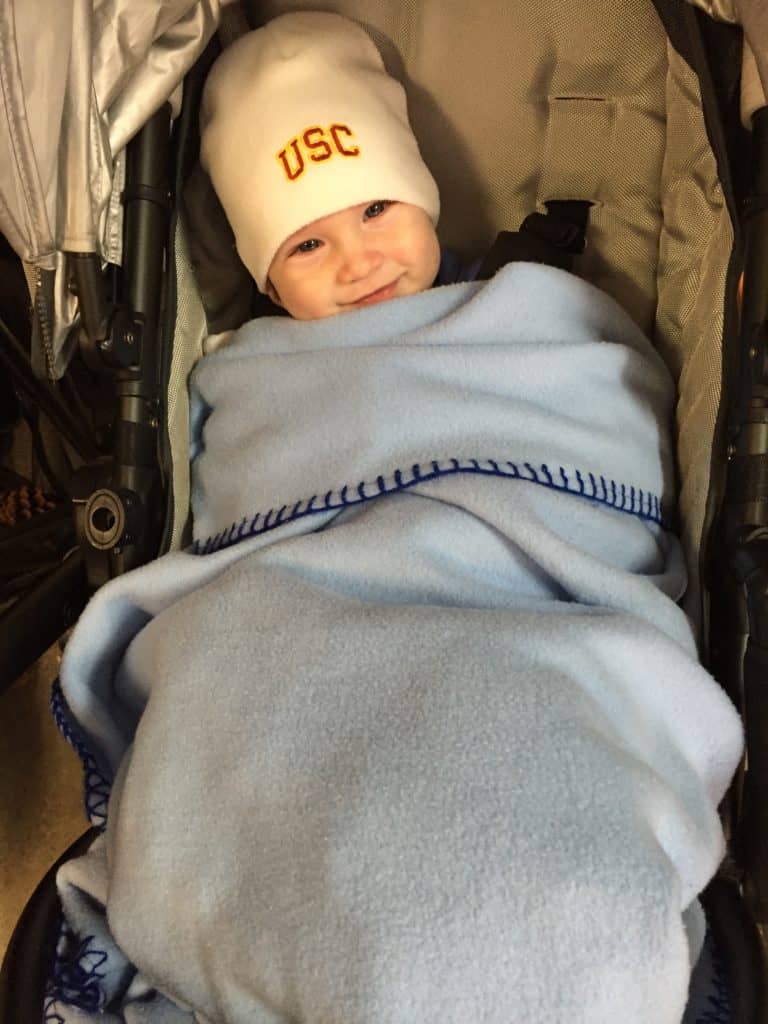 Keep baby away from big crowds and areas where there are likely to be sick people. Colds in infants can quickly become very serious, potentially leading to RSV and hospitalization. Large daycare centers where older children may attend are one example. Have siblings wash hands regularly and encourage them to not touch baby's face. If one of your older children is sick, it is a good idea to keep some distance between them, if possible.
Watch out for ice. If you are wearing baby, this is especially important because you won't have the infant's car seat for added protection if you slip and fall. Use precaution and good judgment for outings when there's snow and ice. Regularly use deicer on your steps, sidewalks and driveway. Walk on the sunny side of the street and use fresh snow for traction if you find yourself in a slippery situation.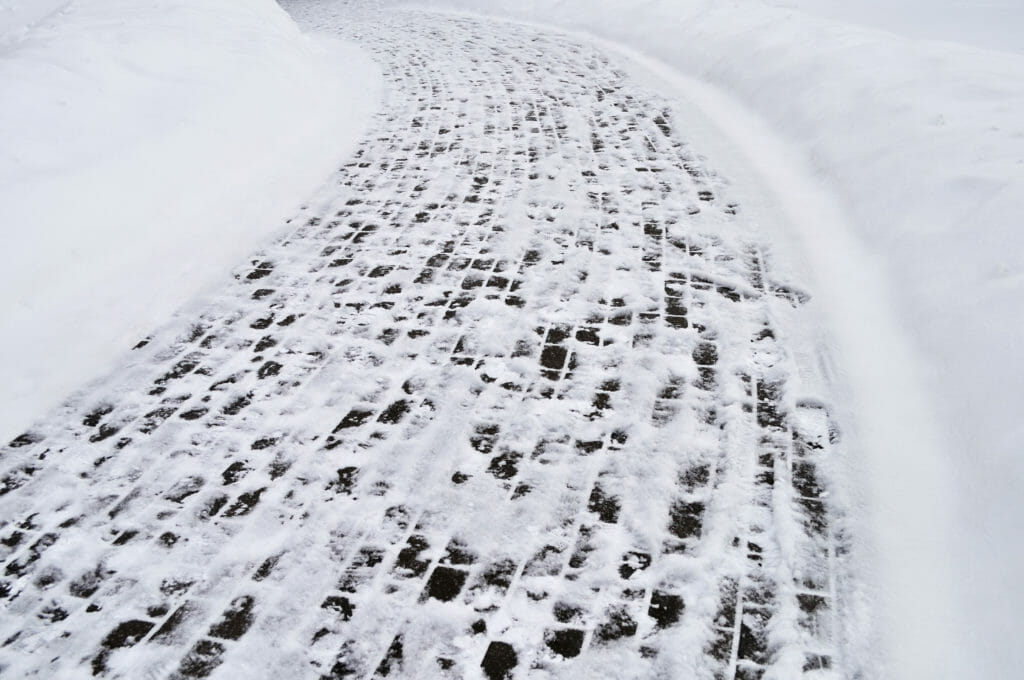 Keep outings short. Chances are that you won't want to be out too long when the temperatures are below 20 or 30 degrees Fahrenheit, but keep time outside in mind during your outings. If you need to run errands on foot, make sure they aren't far apart and you can take some time to warm up in stores in between the time you've spent outside.
Use your best judgment and error on the side of caution. If it's super windy and cold outside, maybe save your outing for another day. Below zero degrees? Probably a bit too cold to be taking baby. I don't have an exact temperature cut off where I would stay in, but generally speaking, the colder it is, the more caution you should use when planning outings. Keep the duration short and make sure you're staying warm. If you're getting cold, baby probably is too.
Most people tend to stay inside more during the winter as it is, but the fresh air and light are important to our health. Winter outings with your baby are more than possible. Caution and good judgment will go a long way.
Have questions about your new baby? We are here to help! Katie@TheEarlyWeeks.com
Disclaimer:
The content contained in this blog is for informational and educational purposes only. It is not intended as medical advice or to replace the advice of any medical professional. It is based on our opinions and experience working with newborns and their families. Other's opinions may vary. It does not represent the views of any affiliated organizations. The reader understands that term "Babynurse" is often a word used to describe a newborn caregiver. However, unless otherwise disclosed, we are not licensed nurses in any state. By reading and/or utilizing any information or suggestions contained in this blog, the reader acknowledges that we are not medical professionals and agrees to and waives any claim, known or unknown, past, present or future.
© 2018 Bishop Enterprises, LLC All Rights Reserved