Congratulations! You are currently expecting or have recently just had your little one. Getting to this point may have been easy or unexpected. Or, it may have been a huge struggle filled with fertility and IVF treatments, surrogacy and challenges that possibly took years to achieve. Regardless of your journey to this point, you are now pregnant or have recently delivered and have determined that you want to hire a Baby Nurse. Now what? Where should you get started?
Firstly, I want to preface this article and clarify the term 'Baby Nurse'. It is the most widely used and well known term referring to a provider that generally cares for newborns from birth. However, it is important to know that legally providers cannot market themselves using the term "nurse", unless they are in fact a licensed nurse in their state. This can be confusing and misleading to new parents. I believe the primary reason that the term "nurse" isn't allowed is because it implies that the caregiver has a medical background and can perform duties of a medical nature. If a provider is not a nurse, but calls themselves a Baby Nurse, it must be disclosed that they do not have licensure in their state as a nurse. The more appropriate and modern title for a baby nurse is "Newborn Care Specialist". However, it is not widely known (yet), which is why you will see the terms often used interchangeably.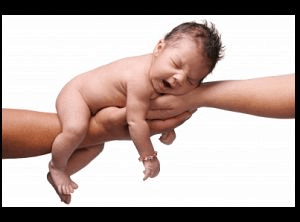 Now let us get to it! As a Newborn Care Specialist who has helped dozens of families all over the USA, here are my top 8 things to know when hiring a baby nurse:
Know the experience and credentials of the provider you are hiring and understand what they mean.
The reason this is important is that Baby Nurses and Newborn Care Specialists do not have a nationally recognized governing body in the United States. This essentially means that there are no rules for who can call themselves a Baby Nurse or Newborn Care Specialist. However, there are a few private associations that certify Newborn Care Specialists. Meaning that someone has created a set of requirements that must be fulfilled in order for that individual to market themselves as a Certified Newborn Care Specialist. If you don't see the word "Certified" or the letter "C" before Newborn Care Specialist, chances are, that provider has not completed a course to be certified with any association specifically for newborn care. On the flip side, there are many providers that work as Newborn Care Specialists and Baby Nurses and have done so for 20 or 30 years. They simply have chosen not to undergo the certification process, likely because of the strict requirements and time involved. Here is an example of what you may see:
            Sarah Jones, NCS
            Sara Jones, CNCS
Make sense? In the first example Sara Jones is calling herself a Newborn Care Specialist. In the second example, Sara Jones is marketing herself as a Certified Newborn Care Specialist. Meaning that she has fulfilled all the requirements in the required timeframe to be certified with that program.
Here is what my initials mean:
        Katie Bishop, CANCS, PCD, Infant Sleep Consultant
CANCS – Certified Advanced Newborn Care Specialist. 2 years, 2,499 hours of private in home infant care. 8 hour max per day to count toward total, no doubling of hours for multiples. All coursework and tests completed and passed. Certified through the NCSA.
PCD – Postpartum Certified Doula. A long list of requirements to be fulfilled in 4 years. Certified through DONA.
Infant Sleep Consultant – no certification. Course work and a primary area of my focus and expertise.
As you can see, the backgrounds of each Baby Nurse and Newborn Care Specialist can vary greatly. So do your due diligence. Did your provider take a 2 day course to be certified? Do they work with infants on a daily basis? How many sets of multiples have they cared for? What do the initials behind their name mean? What were the requirements to get certified? What type of experience do they have? Don't be afraid to ask questions and make sure you understand what it all means.
2) Determine your goals.
Before hiring a Baby Nurse, you and your partner should have a conversation about what is most important to both of you and what you want to accomplish during your time with her. Here are some helpful questions:
Do we want help at night? If so, will the baby nurse take over complete care of our baby or will the baby be brought to the mother to nurse?

Do we want the Baby Nurse to "live-in" and be available to care for our baby around the clock?

Do we only need help a few days per week? What hours would be ideal for us?

How long would we like care. A few weeks? A few months? 6 months?

Do we plan to travel at all? Would we like the Baby Nurse or Newborn Care Specialist to come with us to care for the baby? Is it international or domestic travel? For how long? What does this arrangement look like?

Do we want a Baby Nurse that will provide a lot of education and help us be confident new parents?

Will we need a Baby Nurse that is willing to help with older children, light household duties or errands (not all will)?

Do we want a Baby Nurse or Newborn Care Specialist that can teach our baby healthy sleep habits or to sleep through the night by 12 weeks of age?

Is it important that the Baby Nurse has a clean driving record, background check or is infant CPR certified?

Is it important that the Baby Nurse has a certain number of years experience?

Is it important that the Baby Nurse has experience working in staffed homes or with high profile families?

Would we like the Baby Nurse to train the nanny before she leaves?

Will we need a Baby Nurse or Newborn Care Specialist well versed in providing lactation support? Know certifications here too.

What is our budget?
Out of all of these questions, I would encourage you to write down, in order of most importance, your top 5-7 must haves, and let these be your guide.
3) Determine your budget.
    The rate each Baby Nurse and Newborn Care Specialist charges is going to vary. I can be determined by; location, years and type of experience, and whether or not they will be caring for a single baby,  multiples, or high risk infant(s) such as preemie and micro-preemie babies. For babies with medical needs, a Newborn Care Specialist that is a Registered Nurse would likely be the most ideal.
Here are some ranges you can expect to see:
    Single baby – $20-$45 per hour. Live-in $300-$700 per day.
    Twins – $25-$50 per hour. Live-in $350-$900 per day.
    Triplets – $30-$60 per hour. Live-in $450-$1,080 per day.
    Quadruplets – $40-$80 per hour. Live-in $600-$1,500 per day.
I have seen ranges outside these numbers, but in general, most providers will fall within these parameters.
4) If possible, meet your candidates in person.
At the very least, have a through Skype or FaceTime interview with them. It's important to get to know them and their personality. This is especially true if the Baby Nurse will be living with you for a longer period of time. If you've spoken to several and your favorite is across the country, offer to fly her out for an in person interview. It's worth it to know that they are the right fit for your family.
5) Your Newborn Care Specialists or Baby Nurse may require a contract and/or retainer to secure her services.
I won't say that all or even most NCS's or Baby Nurses use contracts and retainers, but a good deal do, especially ones that have been in the business awhile or have taken through training.
There are several reasons:
A contract provides protection to both parties clearly describing, expectations, timeframes, fees and responsibilities for everyone. A good contract will help to avoid "what if" scenarios.

Newborn Care Specialists and Baby Nurses can work with multiple families at once. A contract is helpful to know when you are guaranteed care from your provider and when the provider is guaranteed work.

Babies arrive in this world on their own timeframe. A good contract will allow a little wiggle room for this variation and at the same time allow the Newborn Care Specialist to continue working and offer protection to the family that her services have been secured for a specific timeframe.

Newborn Care Specialists often work with one family for several months at a time. Once booked, the NCS will begin turning down other opportunities that overlap with a specific contract.  

A contract provides the expecting family peace of mind, knowing that they will have reliable care for their family, during the timeframe specified.
6) Always check references and ask for letters of recommendation.
One of the best ways to get a feel for any potential Baby Nurse you are considering is to talk to families she has worked with in the past. Just remember that it is easy to write or claim anything on a resume. Talk to her references and do some digging through social media, Yelp and Google Reviews. Google them. What did you find?
7) Go with your gut.
The days and weeks following the birth of a baby are an incredibly intimate time for a new family, especially the mother. If this is your first baby, everything is new. But, even if it's your second third or fourth, it is still a very personal and intimate time. Parents are learning their new roles, siblings are being introduced, mom and baby are learning how to breastfeed, sleep deprivation is setting in and the new family is learning how to co-exist. The caregiver that you choose will see you during these times, in your most raw and vulnerable states. If they will be living in your home, they will be around most of the time. All day and all night. So ask yourself, what is your initial first impression? Does this person make you feel calm and comfortable? Do you see them as being someone who can help your family through this major transition? Does their personality meld well with yours? Try to envision this person helping your family. What does it look like and how does it make you feel? Trust your instincts, we all have them for a reason. If you have any red flags, take them seriously.
8) Allow plenty of time.
As soon as you know that you want to hire a baby nurse, start the process. It can sometimes take months to find the right person. Also, it is not uncommon for Baby Nurses and Newborn Care Specialists to be booked 6-7 months in advance. Some are hired as soon as a family finds out they are pregnant. So give yourself some time and start researching as soon as possible.
Having the right Baby Nurse will completely transform your family's postpartum experience. I am told with nearly every family I help "we don't know what we would have done without you. We are so grateful". We are the village and are 100% worth our weight in gold. I truly believe each family should get to experience the guidance, support and education we provide.
If you are just starting the process of looking for a Baby Nurse, or Newborn Care Specialist, please feel free to contact me. I travel nationwide and internationally or can help you find a caregiver in your local area.
Disclaimer:
The content contained in this blog is for informational and educational purposes only. It is not intended as medical advice or to replace the advice of any medical professional. It is based on our opinions and experience working with newborns and their families. Other's opinions may vary. It does not represent the views of any affiliated organizations. The reader understands that term "Babynurse" is often a word used to describe a newborn caregiver. However, unless otherwise disclosed, we are not licensed nurses in any state. By reading and/or utilizing any information or suggestions contained in this blog, the reader acknowledges that we are not medical professionals and agrees to and waives any claim, known or unknown, past, present or future.
© 2018 Bishop Enterprises, LLC All Rights Reserved